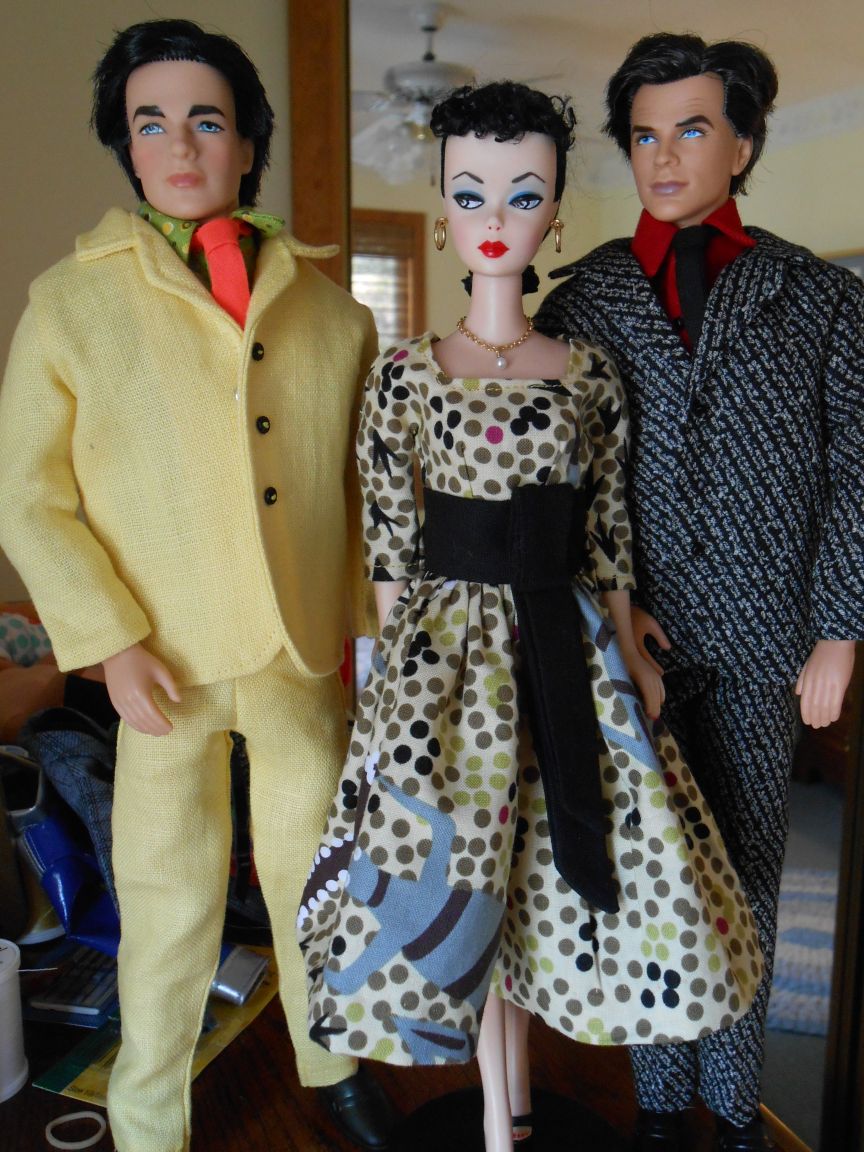 I was an avid Barbie® fan from the beginning – 1959. Mom used to take us to Mamie's house at Christmas and she always had a handmade outfit for our Barbie®. Back then, it was one Barbie® and one Ken®. Fast forward to my junior high years way past Barbie®. I got my first Bernina sewing machine and used my allowance for fabric to make new outfits – you could hear my sewing machine going far into the night so I could wear it the next day. Fast forward again to my first child, Nick. I rediscovered sewing and made some of his clothes as well as Halloween costumes. Nick (reluctantly) wore fabulous costumes ranging from Superman to ET.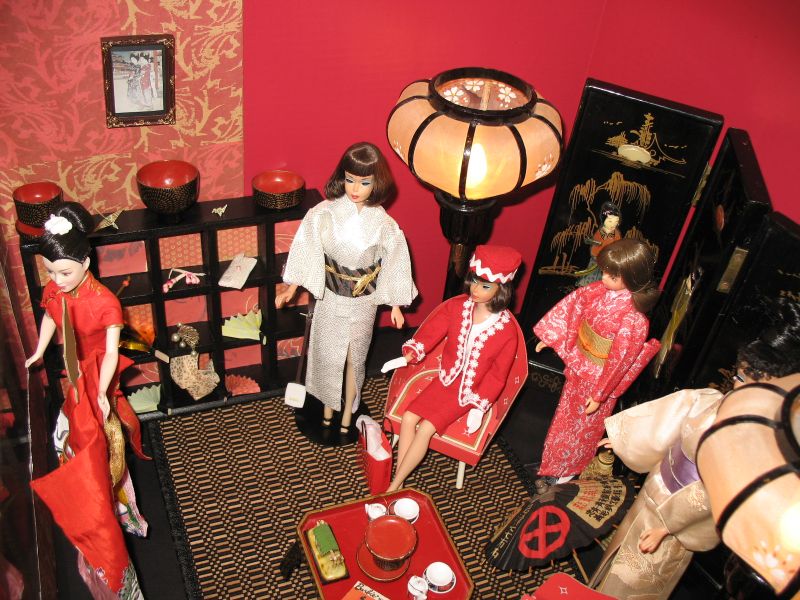 ABOVE: Kimono shop diorama from the Kansas City NBDCC featuring Japanese fashions.
In 1991, I discovered my old Barbie® and Ken® in the back of a closet and fell in love all over again. My sewing was jump started again when I attended my first Barbie® Convention in Dallas. I still had my old Bernina and decided to make some table gifts. By that time, I was an advanced collector and ready for some new fashions. I became interested in the Japanese fashions that were made for Barbie® only for the Japan market. And I met Sylvia Campbell who became my mentor and soon a treasured friend. Several million dollars later, I have a massive collection of fabric and patterns and trim and ribbons. I discovered that I wasn't just a Barbie® collector – I was a lover of fashion. After all, Barbie® led the charge for fashion and for careers.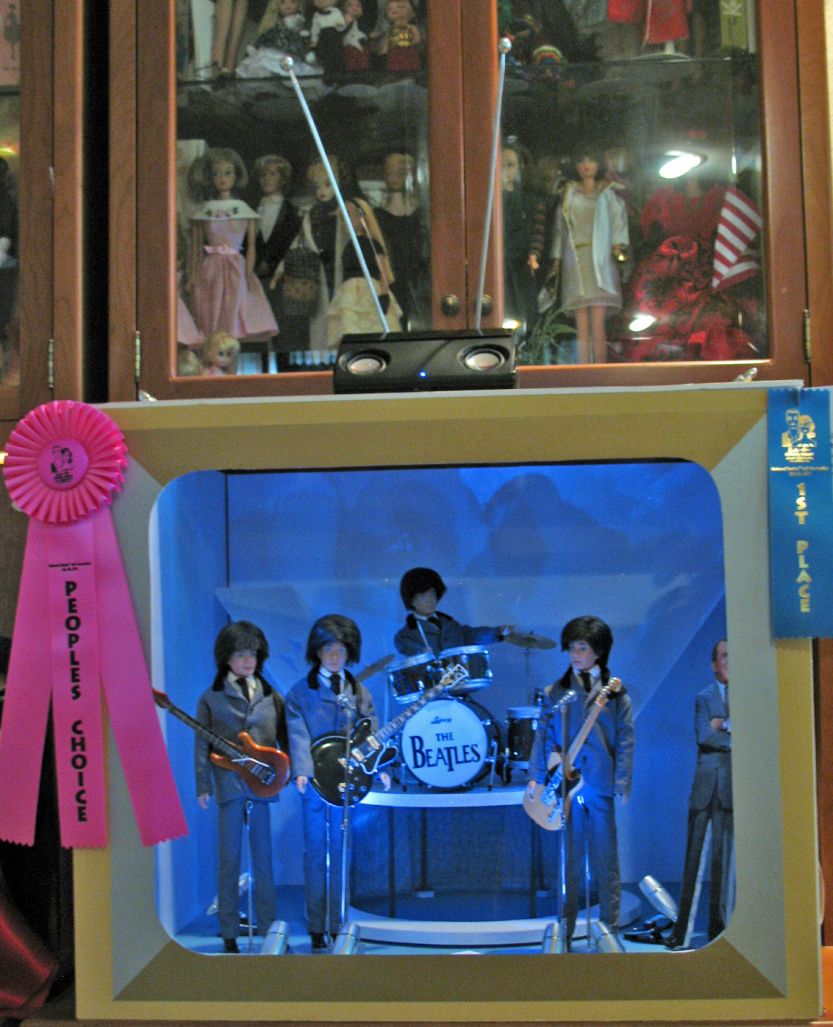 ABOVE: Beatles on Ed Sullivan diorama from the 2011 NBDCC.
That was about five years ago and my creative energy just kept growing. I started making dioramas and entered my Kimono shop in the Kansas City Convention. It won first place. Then I put together the Beatles on Ed Sullivan and Ken Huna's Surf Shop in Ft. Lauderdale. I received the People's choice for The Beatles entry. I dressed the Fab Four and made wigs – they rocked! Now I'm hooked and I can combine my sewing talent with other creative endeavors. So here we go with the Orange County Convention centered on travel. I made reproductions of all four of the Braniff outfits and learned how to make a bubble helmet with a dremel. Yes, I made Ken® a pilot outfit too! Somewhere along the way I learned how to make my own patterns and copy vintage outfits so I could make them in my own fabric choices. I put together two more dioramas for the 2012 Convention – Rear Window and Travel Turbulence. I designed the set and made Jimmy Stewart's outfit for my Rear Window diorama.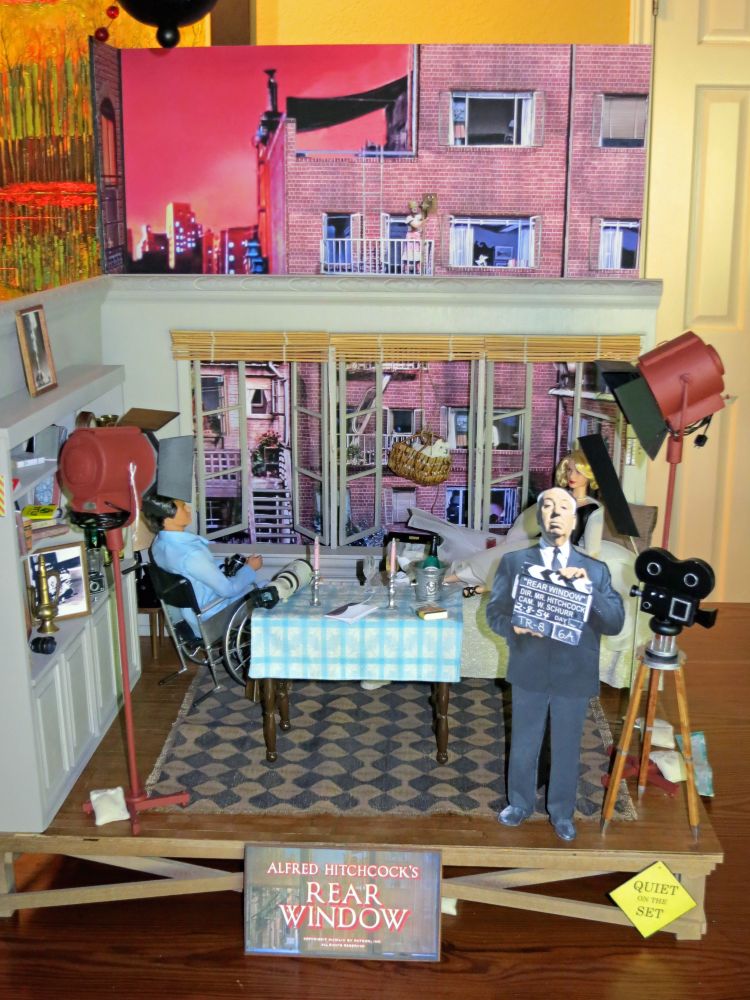 ABOVE: 2012 NBDCC diorama "Rear Window".
BELOW: 2012 NBDCC travel theme diorama.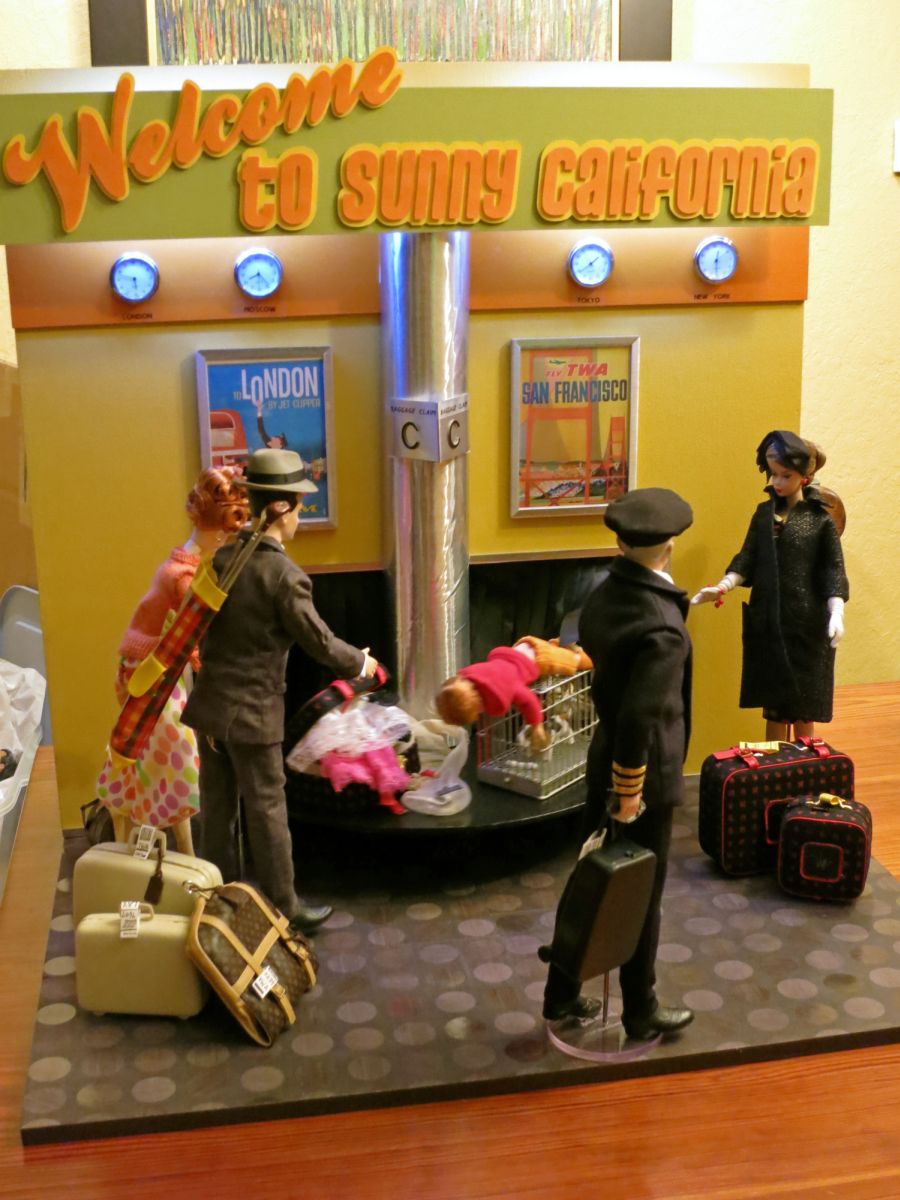 October 2012 we travelled to Chicago for the very first Ken®vention. I spent the month of August prior to the convention in our Colorado home sewing for Ken®. I made an outfit for Futuristic Ken® (doll by Matt Trujillo) and dressed a vintage Ken® in a very cool vintage fabric for the Skinny Tie competition. Both these guys won ribbons. I also made a bunch of suits for Ken® and learned to make ties. Although Ken® has always been in my collection, I fell in love with him as a personality separate from Barbie® and now I completely understand Ken® collectors. I actually made Ken® a suit out of Solo in the Spotlight fabric and sold it at Convention. And I discovered Ken® size aprons at Home Depot and made them into something Ken® could wear. My Ken® also has a Home Depot paint bucket and a tool box. What fun we had in Chicago seeing old friends and making new ones. Now, when I shop the Internet or fabric stores – Ken® is equally in the forefront for my selections.
BELOW: (Left) 2012 Ken®vention Competition entry "Futuristic Ken®". (Right) Home Depot guys. (Bottom) Ken® doll reflects on the 2012 Ken®vention.
| | |
| --- | --- |
| | |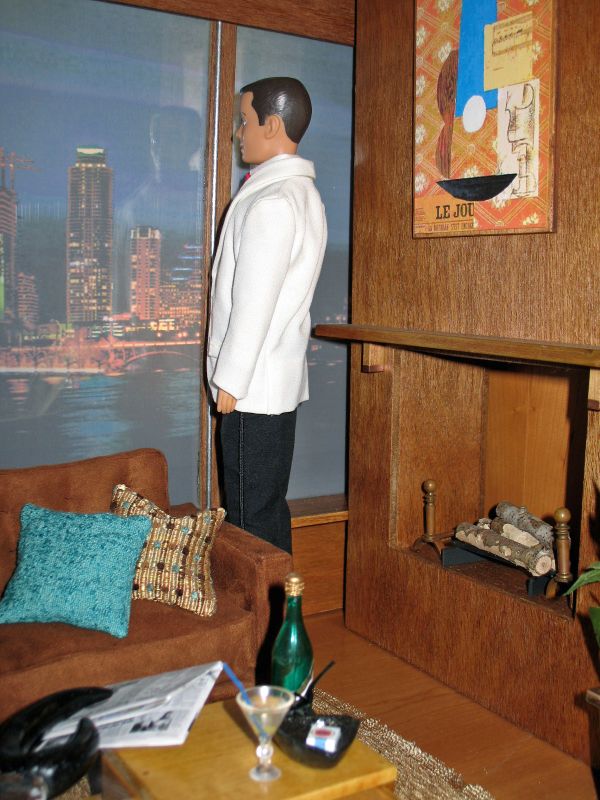 What you might want to know about me: I have 32 years as a top producing Recruiter in Austin, Texas. Twenty-one of those years were also spent recruiting for vintage Barbie® collections buying from the original owner and selling my extras at doll shows. I am totally driven, mostly disorganized (you should see my sewing room!), love creative projects (obviously…) and adore my husband and two Schnauzers. Jesse goes with me wherever I go and has supported this enormous passion almost from the beginning. We love to travel so the Conventions have been adventures for us and he likes to fill our Suburban with Barbie® stuff and take off for unknown territory. You might meet him in our room managing room sales while I go spend money. Barbie® and Ken® have brought us many friends and amazing memories. I have been making table gifts for friends for the last couple of years and that has led to great discoveries and pushed me to learn and grow. You can find me on Etsy under debrasdolls and please friend me on Facebook.
I've enjoyed being a part of the He's a Doll group and laugh constantly at the humor. Yep, I bought the Dating Fun Ken® with the pink wig. The Twilight guys are fantastic. Ken® is taking over my Barbie® room! Jon came through my room during room sales in Chicago and started matching jackets to shirts and he was right on. I'm a vintage Barbie® collector that has been converted.
BELOW: Deb's Ken® dolls look forward to the year ahead (using the HAD member calendar)!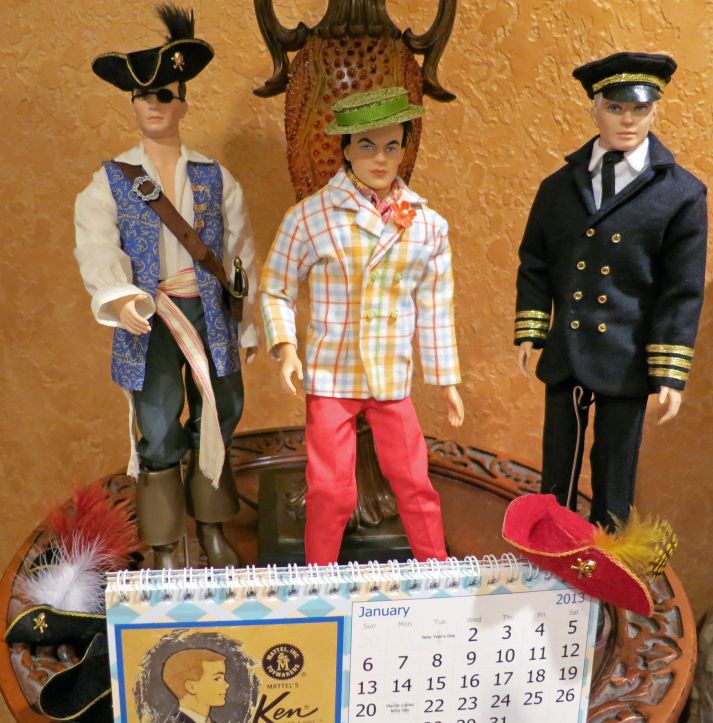 Ken® has his own bar, his surf shack, TWO Bachelor pad's and his Rear Window set in my Barbie® room. He has more dioramas than Barbie®!! Plus he gets his own stage for the Beatles performance on Ed Sullivan. Look for my Mardi Gras outfits with cool little masks at the 2013 Barbie® Convention in New Orleans and who knows what Ken® will be wearing by October of next year in Milwaukee.
KEN® and associated trademarks and trade dress are owned by and used under license from Mattel, Inc. ® and ™ designate U.S. trademarks of Mattel, Inc. ©2012 Mattel, Inc.
All Rights Reserved. This convention is not sponsored by, or affiliated with Mattel, Inc.