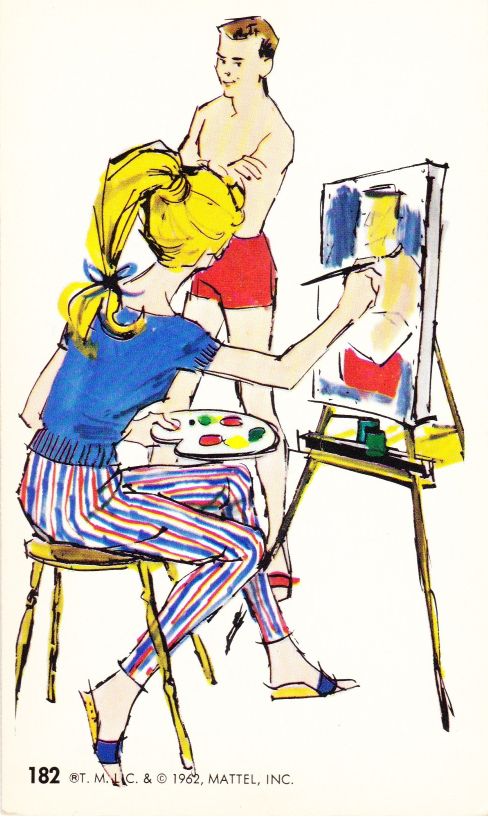 These cards are just as popular as ever and over the last few years Mattel has even incorporated these images into contemporary licensed products like beach towels and most prolifically in a series of dinner plates for each season.
So what are the Jumbo Fashion Trading Cards worth today? Like everything, it fluctuates and condition is everything. Individual cards can be had for $5 to $8, but are usually a better buy in incomplete sets of just a few cards. The "card packs" of five range between $50 and $100. The boxed sets usually go between $150 and $300, but a particularly near-mint example sold earlier this year for more than double that. As with everything, it all depends on the market at the moment, but I've always found that with a fair bit of patience, you can almost always find what you're looking for at a fair price. Happy Hunting!
What A Card!
For me, the early vintage licensed products are some of the most interesting and the most fun to collect. They often featured unique graphics that were seen nowhere else and when it comes to graphics, nothing holds a candle to Dynamic Toy Company's Barbie® & Ken® Jumbo Fashion Trading Cards. They show Barbie® and Ken® doing everything together from browsing an art gallery to cooking dinner to playing pin-the-tail-on-the-donkey. The artwork is amazing to say the least and you really get a sense of their personalities. The back of each card offered useful tips for young minds on subjects like grooming, etiquette, and even how to make the perfect Denver omelet – Ken® doll's specialty!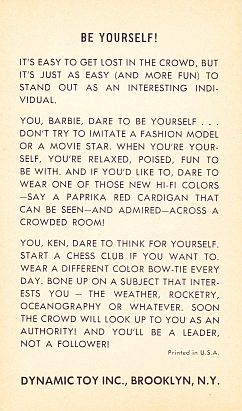 ABOVE: The back of the cards offered useful tips.
Most people believe that this series was a follow-up to the popular Barbie®-only version, but they were actually both released in 1962. Barbie® Jumbo Fashion Trading Cards are numbered 141-175 while the Barbie® & Ken® Jumbo Fashion Trading Cards are numbered 176-210. Why the odd numbers you might ask? Well, that's because they shared the spotlight with Disney licensed cards as well as Popeye, both rather popular at the time. The cards were available either as a complete set in a chipboard box or in random packs of five individual cards.
TOP: Boxed complete set of trading cards. BELOW: Random pack of five individual cards.