1985 Dream Glow Ken®
#2250 Dream Glow Ken®- His name alone would make any little girl desire to play with him! To this day, I still get excited at the mere mention of the word, "glow." So much so, that I recently purchased some glow in the dark bracelets for New Year's Eve from the dollar section at Target.
The 1980's dolls present some of my favorite editions. Not just because the late 70s and early 80s were my play years, but the dolls were just beautiful and had such fun clothing and accessories. Dream Glow Ken® became my favorite Ken® to take over to my friend Angela's house to play with. He also was the last Ken® I would "play with," before I started calling my dolls "my collection." I immediately was drawn to him because of his unique hair color. I did not have any Ken® dolls with brown hair. Blonde, and black hair yes, but no brown. His hair was light and reminded me of my sepia Crayola crayon. His eyes were a bright shade of aqua and he had a warm " you can trust me" smile.
Dream Glow Ken® came handsomely dressed in his 2 piece grey tuxedo. The tuxedo consisted of a grey jacket with a pretend lace handkerchief in a pretend pocket, and a snap closure that had a pretend grey button sewn on the other side. Inside was a one-piece suit. It had grey pants attached to a shiny, white sleeveless shirt that had silvery sparkle thread through it, a glittery silver vertical thick line in the center where buttons would go, a pink vest with stars that glowed in the dark, and was topped off with a pink bowtie over a white plastic collar. He came with sheer grey socks, and grey dress shoes, as well as a glow-in-the-dark corsage for Barbie® in a plastic case, just as if he had stopped off at the flower shop and picked it up for her.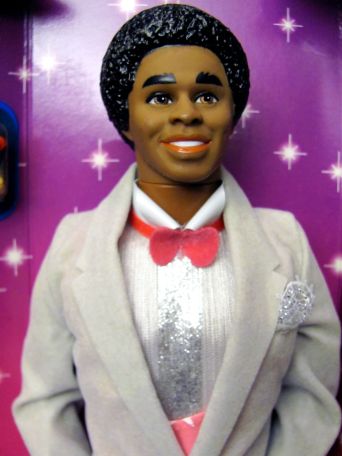 ABOVE: Dream Glow also came in a black version #2421.
BELOW: The left box panel tells a story.