There are the people who love them, and then there are the people who don't. It just depends on your perspective.
At any doll convention, it is customary to exchange gifts with your tablemates. The gifts can be anything: dolls, doll clothing or accessories, items that pertain to the theme of the evening or even items from the
city where the convention is being held or the givers hometown.
Sometimes the meal themes at Conventions can be so inspiring you just can't wait to put together a fantastically creative expression that shows your table mates how much you love them! Other times, perhaps you are not quite sure what to come up with.
Whether you toil away at a sewing machine or shop for hours for the perfect item, the time and effort will be appreciated. Table gifts are a way many of us say "Thank you" for enjoying a wonderful evening and convention together. Here are some of the many wonderful gifts Ken®ventioneers were given this year.
Here is a picture showing the beautiful custom coffee table designed and given by Ken Nottoli. The box alone is amazing. The coffee table came in 2 finishes. Wood tones and painted. Everyone wants to sit by Ken next year.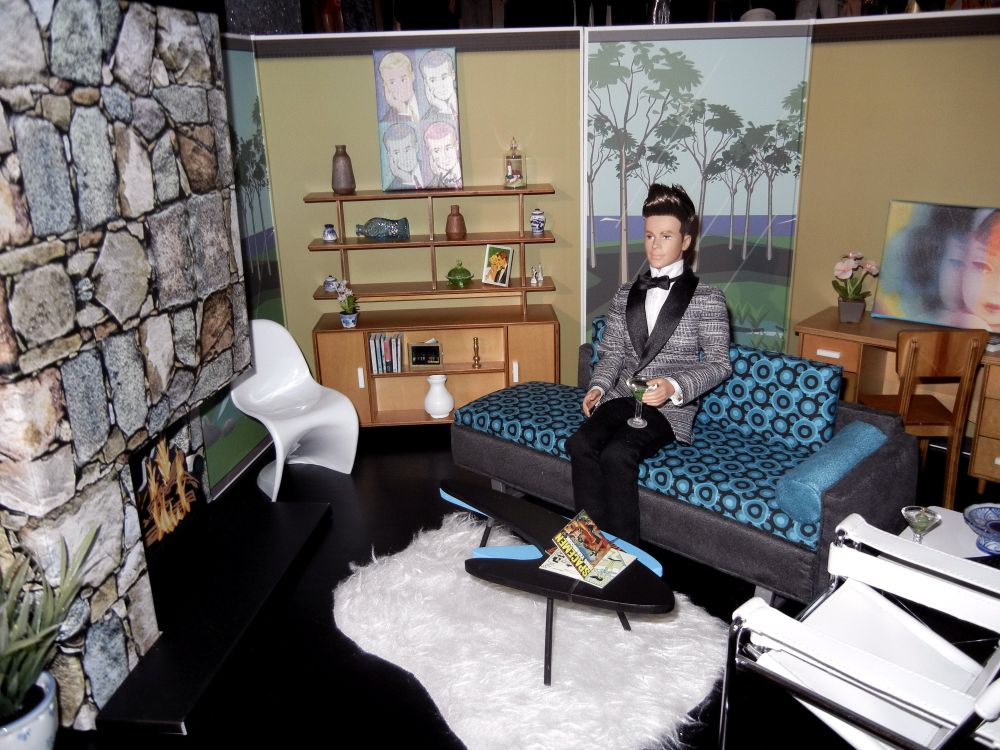 Table 13 recieved these adorable pajamas for Ken®. Thanks for the photo Queli.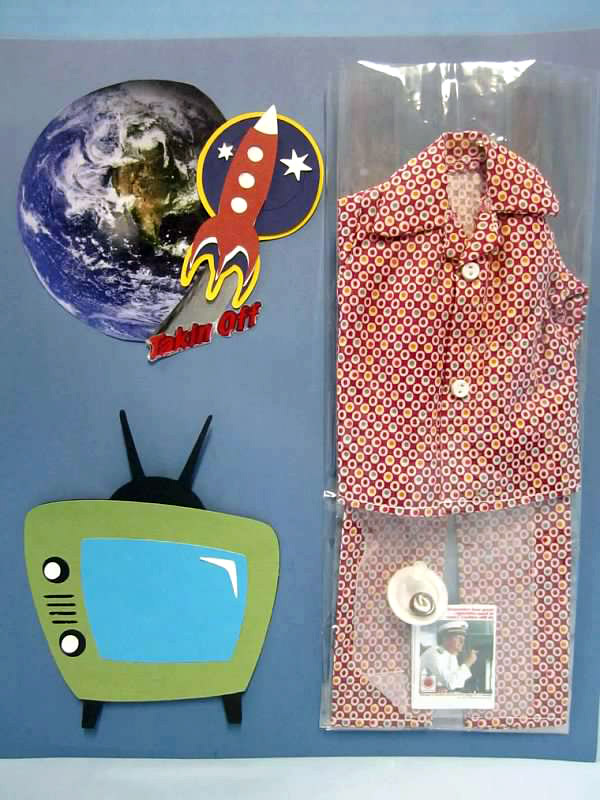 Who needs a flat screen? This vintage tv was handmade by Ann Grahek. Ann has been nice enough to send us a tutorial so everyone can make one. It is included HERE in this newsletter.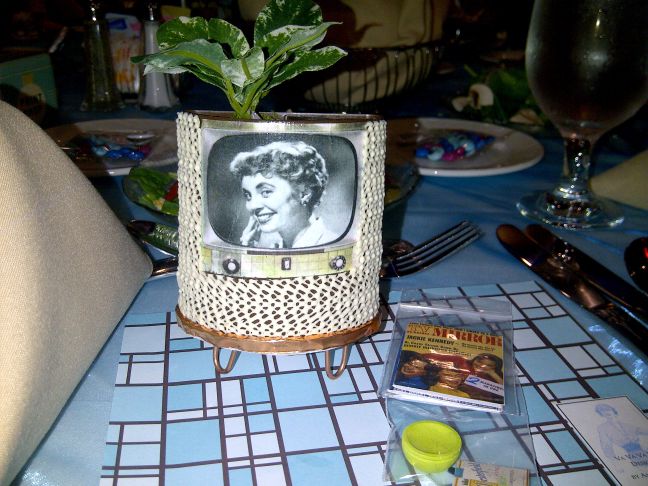 If you were lucky enough to sit at Jenny Jenkin's table you got this Hugh Hefner doll. He's a Don Draper silkstone with smoking jacket and glasses. The Ken® case below included his skivies and other assorted Playboy essentials.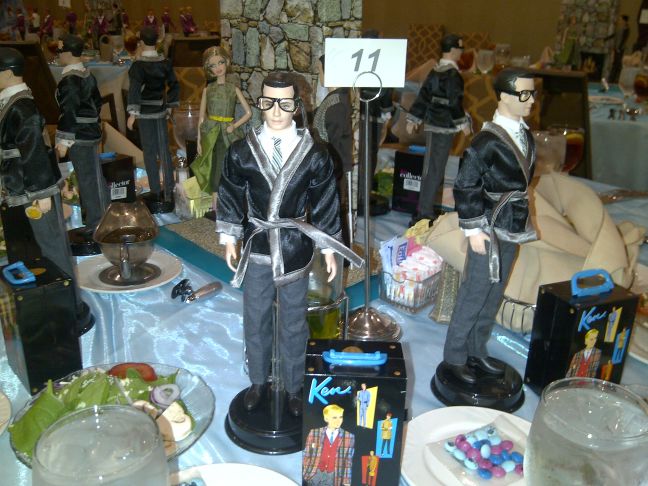 Stan Baker and his husband, Peter Harrigan produced this wonderful Tiki Ken® in a custom box. He is wearing a white tank, white pants and a blue printed Island shirt. The shirt was handmade by Peter and jewelry was made by Stan.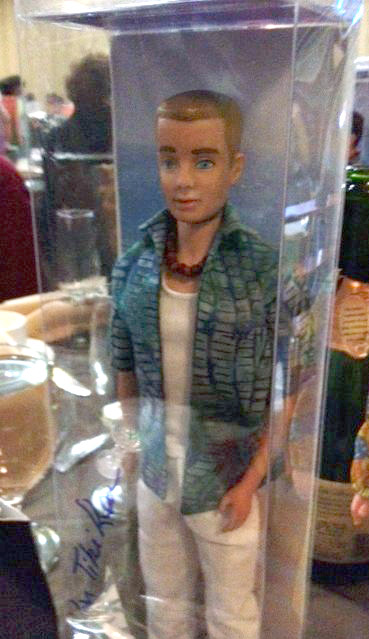 Another beautiful doll was given at table 8 by Beth Clarke. She created this Cosmic Barbie®.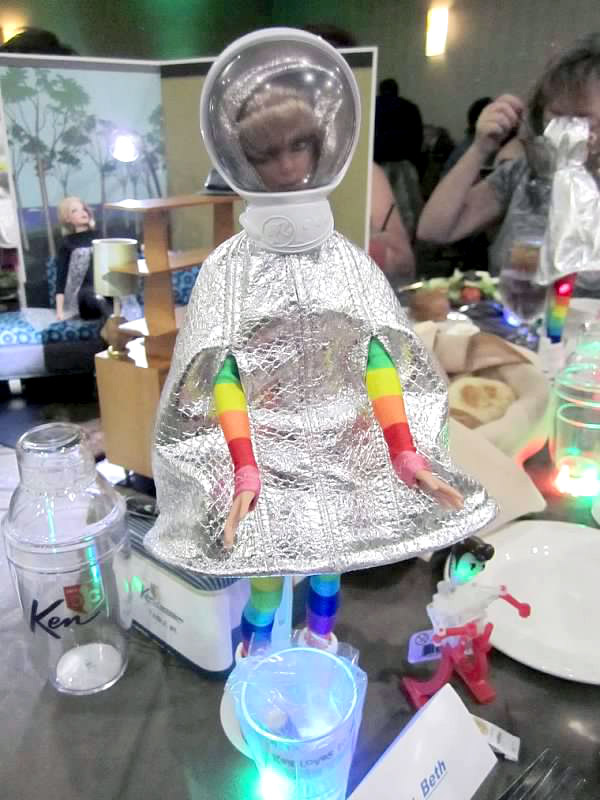 Beth said: "I was trying to think of something to do for the Cosmic Dinner, and saw the astronaut Barbie® fashions--the whole thing revolved around using the helmet! I then decided silver was in order, but wanted it to be some way-out style of cape/dress. Remembering some of the pictures that the planning committee had sent, of what was "space age" back then, I knew she needed some striped stockings and gauntlets. I also used wiring in the hem of the fashion, so it can be shaped as you desired.
The fashion has a hood with it also, in case your doll needs to shed her helmet, and step out in style one evening. I used the Barbie® Then and Now dolls--I love the facial screening on them."
I have to say I was jealous of table 8 that night.
Maggie Caraballo gave out this breakfast tray. Whoa! That's a lot of carbs Maggie. Maggie said "the breakfast tray was made with a silver plated tray. I used a miniature sized fork, plate, glass of OJ, and buttered roll and a grease proof doilie. The doilies are used to keep food such as pastries and rolls fresh. I bought 6 inch doilies. Cut the inside of the doilies and used the border, to show the design on the rim. I hot glued the doilie to the tray, then hot glued the roll to the plate. Then hot glued the plate, fork and juice to the paper doilie on the tray."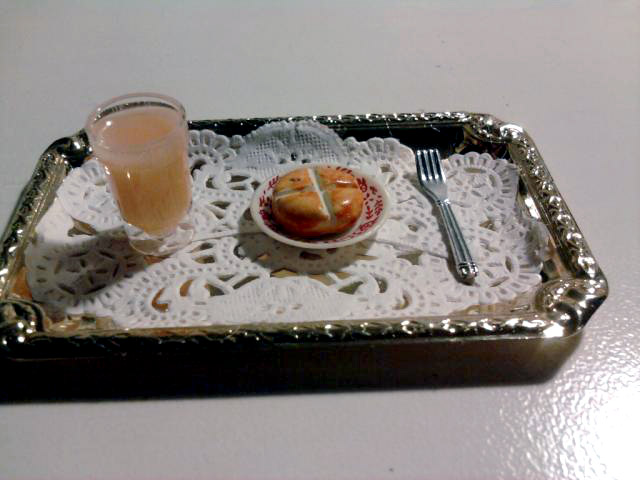 This translucent gift set was given by Jim Taylor. It includes a classic Philippe Starck ghost chair and a hanging light fixture that really lights up. I hung mine in Ken®'s living room and it really brought things to life when I turned it on. Both items came in a clear box which really made it a special gift.
Jim also gave his table these large vintage Ken® posters which just like Ken®, are made of vinyl.
Laura Maar and Jon Hill gave the same chair on the same night at the same table. What are the chances? Laura also gave her table this awesome tropical style shirt that had an atomic theme. Tropical AND atomic? Way to check two theme boxes with one gift Laura. The Roy Lichtenstein style Pop Art print was designed by Jon from vintage coloring book art.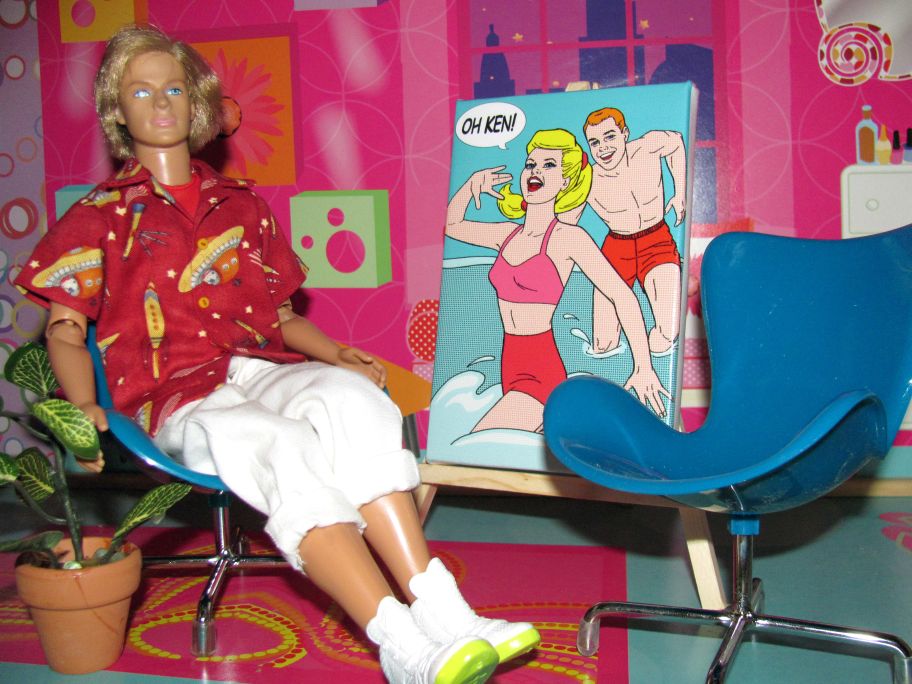 Jon also gave this smoking jacket and newspaper set came complete with a tiny cigar for Ken® to enjoy while reading the newspaper. The 1963 dated Chicago Tribune came complete with articles and photos custom chosen to interest any Ken®. The jacket was beautifully made by member Mary Brandt. Nice job Mary!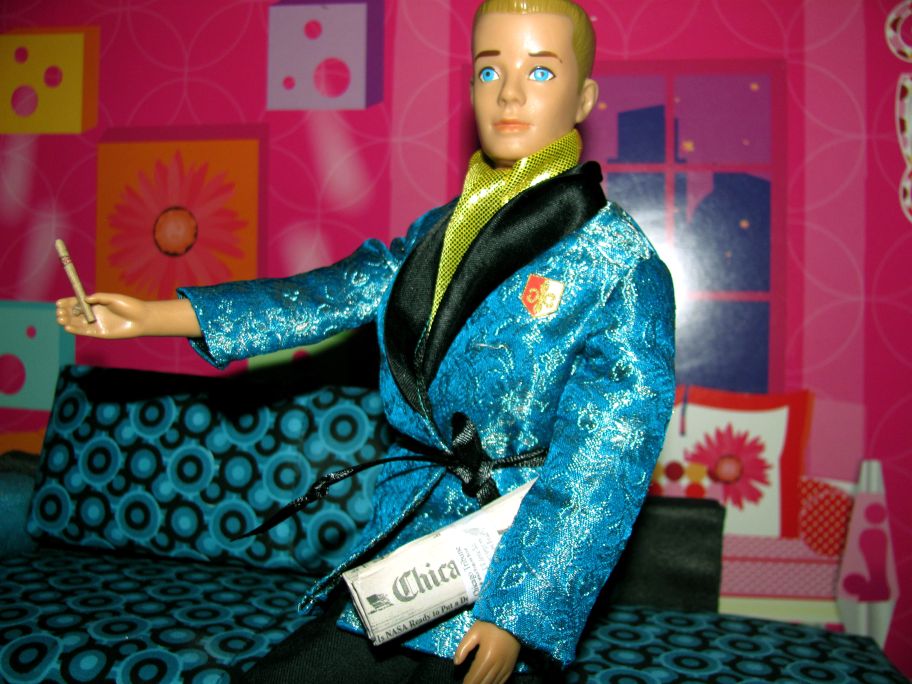 Look at all these guys dressed by seamstress extraordinaire Linda Leake-Beard. One group is dressed in a custom Ken®vention commemorative t-shirts and grey slacks. The other group is wearing matching argyle sweaters. I think I know where you got the argyle pattern Linda. I paid attention during your class!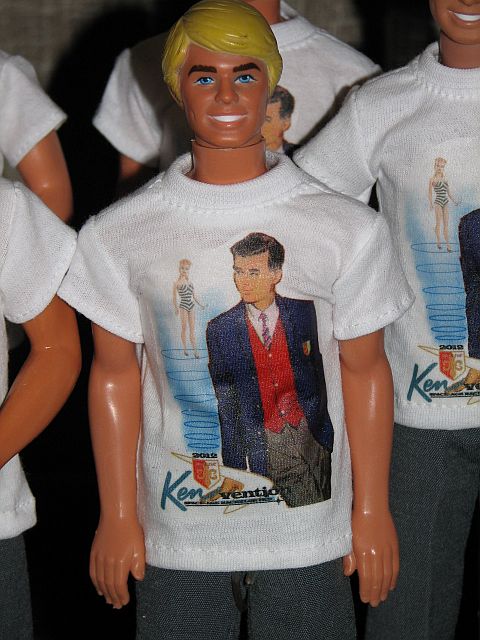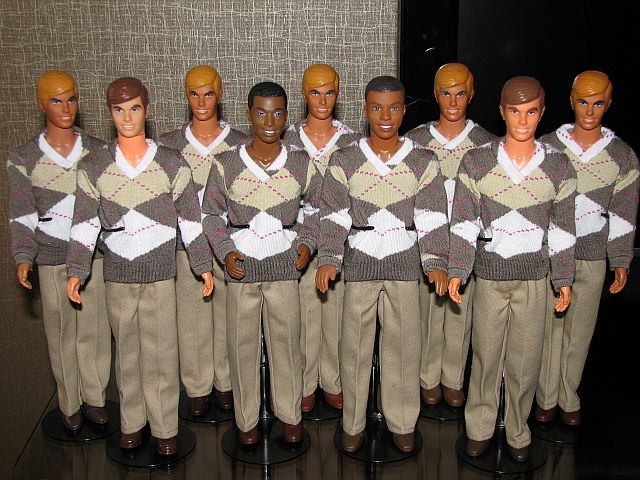 A lot of talent and creativity was involved in the table gifts for this year at Ken®vention. Whether you love the tradition of table gifts or not, you have to admire the fun items the Ken®ventioneers came up with for this special event.
KEN® and associated trademarks and trade dress are owned by and used under license from Mattel, Inc. ® and ™ designate U.S. trademarks of Mattel, Inc. ©2012 Mattel, Inc.
All Rights Reserved. This convention is not sponsored by, or affiliated with Mattel, Inc.